Art and literature had flourished in Europe for centuries. Although many early American settlers were well-read and educated, most writings were personal journals or political essays. Folk art, including signs, flags, and quilts were common. America began to develop its own literary and artistic voice in the early-to-mid 1800s.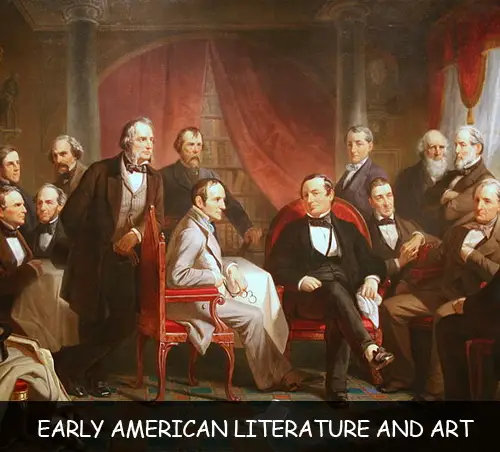 Fun Facts
Idealism flourished in the early 1800s. Several groups, such as the Transcendalists in Massachusetts, formed. Out of these groups came great poets and writers, such as Robert Browning Jr., Emily Dickinson, Henry David Thoreau, and Louisa May Alcott.
People wanted a language and writing style that was distinctly American, different from Great Britain. Noah Webster published Webster's American Dictionary of the English Language in 1828. Previously, words' pronunciations and spellings differed from area to area. In other words, people made up words and wrote them however they liked. Webster's dictionary made American-English more consistent, as well as unique from Great Britain.
In a time before photographs, people loved to have their portraits painted by folk artists.
Young girls spent hours stitching samplers, which featured scriptures, quotes, or even the alphabet.
Furniture was often painted with elaborate designs. The wealthy had murals painted on the walls of their homes. The murals depicted landscapes or even historical events.
Irving Washington was one of the first American fiction writers to gain fame and earn a living through writing. He wrote The Legend of Sleepy Hollow and Rip Van Winkle.
Vocabulary
Idealism: a philosophy of striving for a more perfect environment and world
Transcendentalism: a spiritual philosophy of seeing God in everything and believing in the divine potential of humans
Pronunciation: how words are said
Learn More
Visit the Metropolitan Museum to learn more about American folk art.